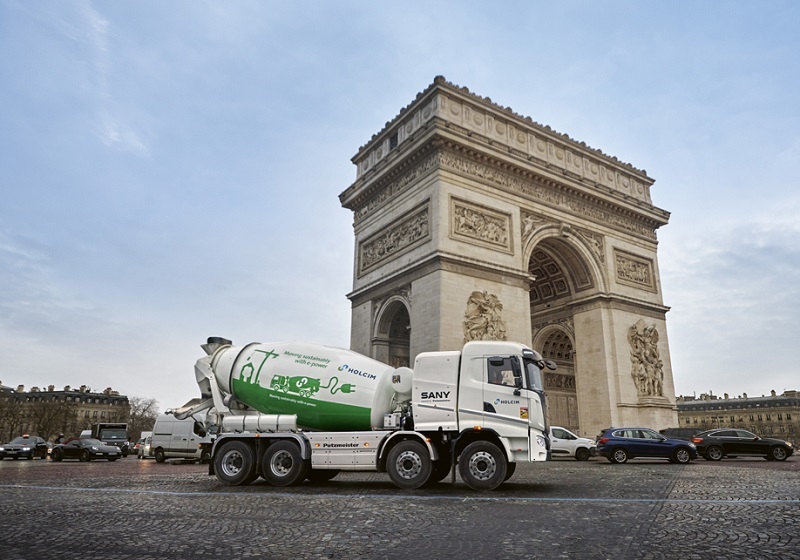 A landmark new development in climate-friendly, design and development within the
concrete and construction industry has emerged. Construction and mining equipment
maker Putzmeister, and cement manufacturer Holcim has joined hands to test whether
the battery-electric mixer delivers what it promises in terms of efficiencies in everyday
practice.
With a battery capacity of 350 kW/h, a working time window of about eight hours should beachieved in urban areas, Putzmeister wrote in a statement.
The eMixer has already covered 4,462 kilometres in Paris. With an average driving distance from the batching plant to the construction site of 5.4 kilometres, which was covered in about 20 minutes on average with 5.6 cubic metres of concrete on board, enough tours could be driven to use the eMixer efficiently, the statement from Putzmeister revealed.
"The latest member is the 100% electric concrete truck mixer 'eMixer' based on the eTruck from the parent company SANY," Putzmeister said.
The eMixed was officially presented at bauma 2022. Holcim – the global leader in innovative and sustainable building solutions – tested the eMixer in the metropolis of Paris.
Three brands, one goal: the drastic reduction of emissions on the construction site through a CO2-neutral value chain.
Whether Putzmeister, SANY or Holcim – everyone involved is aware that the construction industry is responsible for almost 40 % of CO2 emissions worldwide. An all-electric mixer makes it possible to work 100 % electrically and thus emission-free from the concrete plant to the construction site.
At first glance, it looks like a normal truck mixer.
The special feature is the drive: the eMixer is based on a SANY electric chassis and is powered 100% electrically.
This means that no CO2 emissions are produced during the entire operation. The noise levelis also significantly lower due to the electric drive. Its preferred area of application is
particularly in inner-city areas, where there are strict noise protection regulations,
Putzmiester said.
Check it out on the web: Putzmeister is testing zero emission ready-mix-trucks