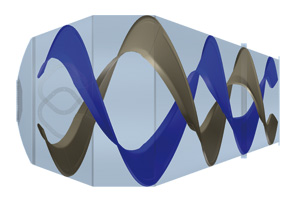 For more than 50 years Cesco has been the market leader in concrete mixers in Australia.
Mix Uniformity Guaranteed by Cesco's unique barrel and blade design
Cesco Australia's most impressive competitive advantage is its world-first pressed blade system design. Inclusive of 8 specific blade segments to complete the unique blade system, it provides a precise pitch and spiral to meet the toughest specifications and achieve efficient mixer quality. We can guarantee mix uniformity up to 50mm slump.
Cesco Concrete Mixer Range

Manufactured to meet the Australian Standard AS 1379-1991 for mix uniformity, the blade system is approved by NATA laboratories for uniformity of mix. This system can also be retro-fitted to meet the same standard.
It is this guarantee of uniformity of mix that makes Cesco the preferred mixer for high specification projects such as highway bypasses, airport runways, dams, tunnels, high rise buildings and bridge projects.