Cesco Deep Foundation Equipment (CDFE), specialize in the Sales and Hire of your Deep Foundation Equipment needs.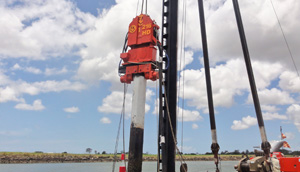 CDFE is a wholly owned subsidiary of Cesco Australia Limited which is part of the Zicom group of companies listed on the ASX as ZGL (Zicom Group Limited).  CDFE has gained acceptance within the Piling and Foundation industry for the supply of foundation equipment around Australia. We can coordinate the sales of all of your Piling and Foundation needs. Such as:
(CFA) Continuous Flight Augers
Hydraulic crawler and micro piling rigs
Hydraulic bore pile rigs
Data logging instruments and other ground engineering equipment.
Impact and Vibratory hammers
Drill rigs
Jet grouting equipment
Bore piling tooling
Micro and anchor piling
Casing oscillator & rotator
Screw auger & API rods
Vibroflot
Diaphragm wall grab
Jack in pile, silent pile
For all your Foundation equipment requirements we are ready to work with you to do the job.
We have a hire fleet of vibratory and impact hammers in varying sizes that will cater for the majority of your foundation needs. We offer both long and short-term hire plans to assist you better to match any project. We will also provide backup/support 24/7.
You are just a phone call away from our friendly team based in Brisbane, for Australia wide coverage.
All this is made possible with our seamless support from our sister company Foundation Associates Engineering (FAE) based in Singapore.