Arrow 770 The Kerbmaker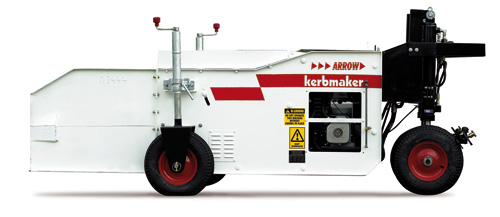 The Arrow 770 Kerbmaker is now laying kerbs in more than 40 countries. That's on top of its reputation as the workhorse of the Australian industry. The Kerbmaker has revolutionised the kerbing industry wherever it has been introduced.
With detachable moulds, this small and versatile machine can produce a multitude of shapes – from 150mm to 1220mm wide – without even changing the power unit.
The Economical Alternative
Manual Hydraulic
Tighter radius
Quicker set up
Designed for the budget conscious contractor
Specifications
ENGINE: Briggs and Sstratton 16HP VANGUARD OHV, Air cooled gasoline model with 12 volt electric start
HYDRAULIC PUMP: REXROTH V7 Variable volume
REDUCTION BOX: Greaves 40:1 Worm reduction unit
DRIVES: Main drive – ½" ASA duples chain, Hydraulics – Vee belt
CONTROLS: REXROTH manually operated 2MDC45 monoblock valve, Manual steering tiller
RAM MECHANISM: Fabricated Ram, Cast swing components, Hi-tensile sharfting
FRAME AND BODY: Fabricated main frame with removable side and top covers for ease of servicing
MOULDS: Bolt on moulds to customer specification include finishing tools and joint cutter
PARTS AVAILABILITY: Major components have been selected to ensure world wide parts availability from local sources.