Late June, 2017 represented a milestone event for Cesco Australia with the first live display of the Frameless 7.6m3 "Low Rider" Mixer to the industry – launched in conjunction with our design partners, into the WA market. The unit was displayed to our Perth-based customers in conjunction with Truck Centre Western Australia (Mack). The expressions of interest and feedback was impressive and based on that positive feedback a 2nd unit has been ordered and due to dispatch to Perth in late July.
Customers and potential customers such as WA Limestone, Hanson, Holcim, Boral, BGC, Limecrete, Mundaring Concrete, Midland Cement Materials, Remote Area Concrete, CSL PTY LTD, were some of the industry leaders that viewed the Demonstration unit. Words and phrases such as "Game Changing", "Progressive", "Great concept", "Industry leading" "Impressive" were some that were used.
The "Low Rider" was on display at Truck Centre Western Australia Branches in Guilford and Spearwood for viewing at open invitation. Mack, Boral and Cesco have worked together to achieve the first Lower Centre of Gravity (LCG) Truck and Transit mixer combination. Cesco started this Continuous Improvement Project some 24 months ago now and the trials and testing to date has gone well beyond all expectations.
The first "Low Rider" was commissioned and delivered to Boral in April 2016 from this the combination was entered into the Cement Concrete& Aggregates Australia EH&S Awards in 2016 and received a Highly Distinguished 2nd place.
In the beginning
A back to fundamentals Engineering review of both truck and the transit mixer was undertaken in 2014/15. This revealed a number of opportunities that could potentially improve the vehicle's natural road holding ability.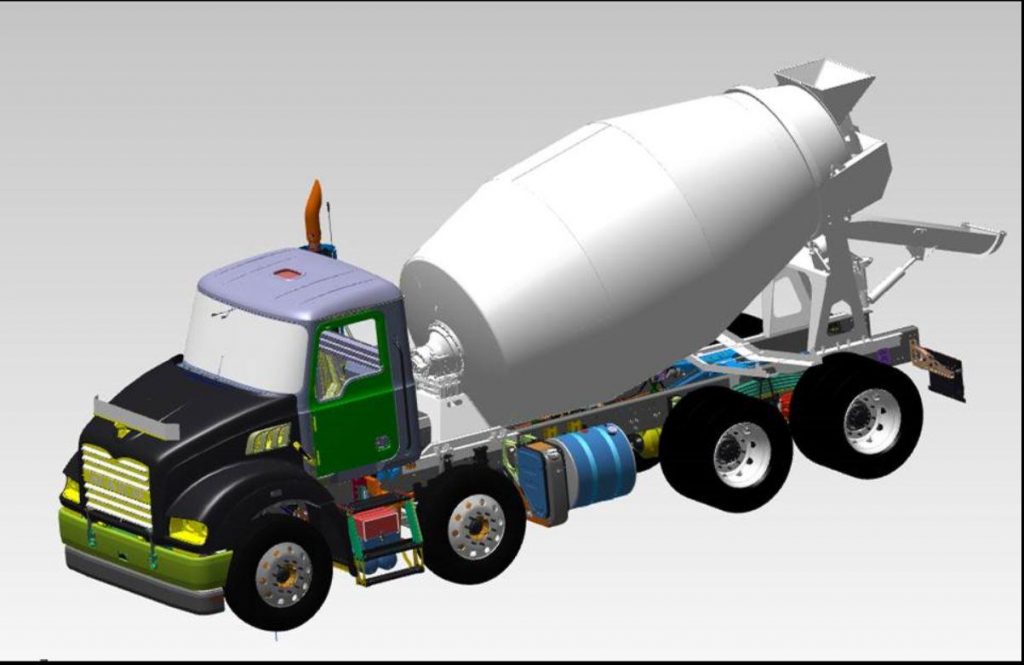 These opportunities can generally be grouped into 3 different areas. These are:
Truck chassis stiffness
Truck suspension design
Centre of gravity of the loaded vehicle (transit mixer)
From this a development committee was set up and Engineering teams went about making change. A summary of the main changes to current conventional design in Australia include:
A thicker and torsionally stiffer high tensile truck chassis
Inverted leaf spring drive axle suspension
A stabiliser bar on the 2nd drive axle
Lower profile tyres
Deletion of the transit mixer sub-frame & lowering the mixer bowl to just above chassis level
An alternate approach to attaching the mixer to the truck
It is estimated now that the centre of gravity has been lowered by 150mm plus.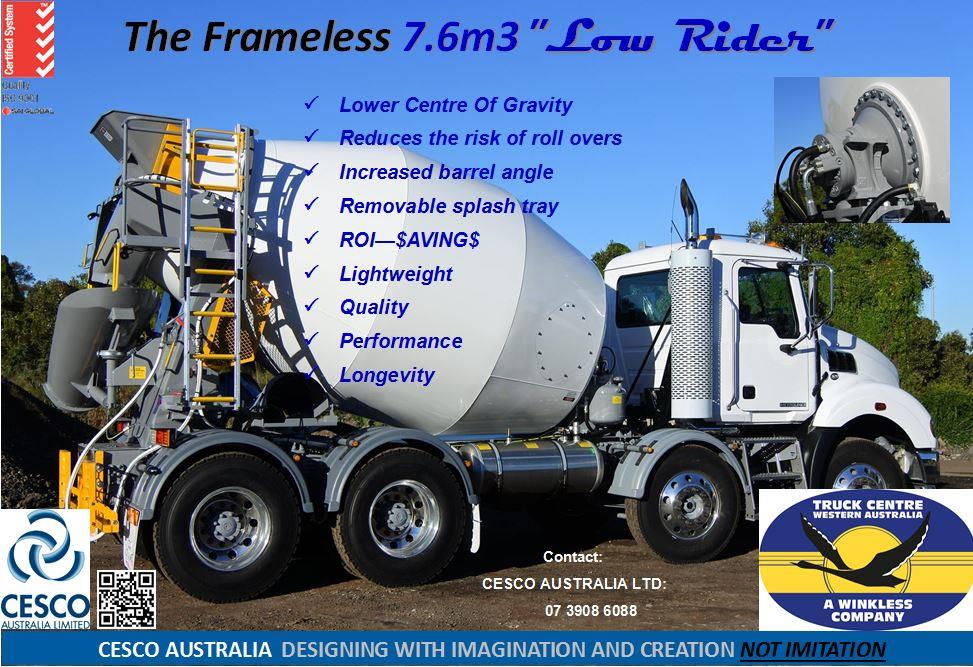 Cesco currently has 14 "Low Rider" units in the field including several 9m3 all preforming beyond expectations. Talk to our sale team now about changing to the future!!!
Regards
Gary Webster
Managing Director
Cesco Australia Limited