'Where there is a need to transport, store, or blend your products. We are here to provide a timely, cost effective, engineered solution'.
If your company has a special use mixing application, Cesco Australia is always willing to design and build one off units.
We use the latest computer aided design techniques to ensure we capture your requirements from concept to commission and then deliver the solution.
Over the years many industries have found cost effective solutions to their mixing requirements, using our special applications design capability including: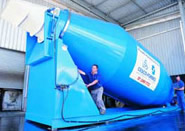 Mixing Explosive
Stone Washing
Polishing
Blending animal feeds

Blending soils
Cleaning soils
Chilling and tanning leather hides
Cesco Australia also supplies and services the agricultural and mining sectors. We have developed solutions in handling:
Grain
Fertiliser
Ordinary Portland Cement
Animal Feeds

Lime
Pulverised Fly Ash
Quarry Products